Kinoo Connect
Regular price
$99.00
Sale price
$49.00
Unit price
per
Sale
Sold out
Includes
1 Kinoo Wand plus Lifetime Use of Kinoo Family App.
Kinoo is a revolutionary play and learn system - designed by developmental experts to help kids learn important skills by playing and bonding with far-away loved ones. It's a video-calling app and content library that pairs with the patented Kinoo Wand to fill time together with laughter, love and learning.
Your purchase unlocks a one-month free trial with unlimited access for all family members, then lifetime limited access continues or choose the unlimited plan that works best for your family.
Requires an iPad or iPhone on both ends of a call (not included), running iOS 13 or higher.
PRICING

Kinoo Wand Bundle includes a Kinoo wand and a Family subscription to the Kinoo app - with free, unlimited use for 1 month. After the unlimited use if over, you can purchase a $10 monthly unlimited subscription or downgrade to the always free 60 minutes per month plan.

Only one wand is needed per household with kids, and a wand is not needed for the adult to connect or play.
HOW TO USE

Using Kinoo is simple!  Just download the app using your iPad or *iPhone.  (Android not currently available).  Follow the prompts to invite family members - it's free for them to connect with you!  Select a loved one to call, and let the adventures begin!

Please note: The Kinoo system requires an *iPhone or iPad, 2017 or newer, running iOS 13+ to function properly for both the child and grandparent.
HAPPINESS GUARANTEE 

We are so confident you will love Kinoo that we offer a FREE 60-day money back guarantee.  Purchases can be returned for a full refund within 60 days of ship date.  Kinoo wands also carry a one-year warranty - if it breaks, we'll fix or replace it. 

Please note:  Kinoo requires iPads or iPhones running iOS 13+ to function properly for both the child and grandparent (or other loved one).  Android devices are not currently supported.
Kinoo Makes Growing Together Fun!
Kinoo is a totally new way for families to connect. It's a video-calling app with fun, shared activities built right in – designed for grandparents and grandchildren to play and learn together, even if they are far apart.
A Call They Can't Wait to Answer
The Kinoo Wand keeps kids active and engaged. Studies show learning increases when kids are moving, and kids love to be in motion.
When you say its time to Kinoo, kids can't wait to grab the Wand and start playing!
Fun for the Whole Family
Kinoo is a completely new experience that transforms video calls into memorable moments for learning, bonding, and fun.
Guided Prompts help Loved Ones Bond
Kinoo activities include prompts to help guide conversations and capture important moments.  Older loved ones can receive tips, tricks, fun facts and thought starters to boost learning and connection.
HOW IT WORKS
One Magic Wand, Unlimited Connections
Kids love the Kinoo "magic" wand, which keeps them active and engaged in Kinoo calls. Adults interact via the touch screen on their iPad or iPhone. Parents, create an account for your child and invite unlimited family members to play with no additional fee.
Kinoo supports 1 Wand per household
🥇Award Winning Activities
Experience Kinoo's skill-building, fun and collaborative games and activities! New activities added regularly.
LEARN MORE
Customer Reviews
Write a Review
Ask a Question
07/06/2022
Catherine W.

United States
Best Birthday Gift for Nephew (4 yrs old)
My nephew just turned 4 years old and we had the best time doing a Kinoo video call and he got to use his magic wand to play a cooking and fishing game with me. Cannot wait to try the other activities on our next video call. Best of all, mom and dad approved!
06/21/2022
Erika O.

United States
Great invention
I takes a little learning curve since there wasn't that much instructions on how to turn on and off the wand, how to download and access/navigate the app but overall you'll get used to it and understand how it is. Great for entertaining young kids and have interaction with grandparents, or even just play by themselves. Wish it is also available for android users so it can have more people to connect with. Wish some games can be played without the other person since sometimes the other person is not available to talk/video chat. Overall I highly recommend this, it is really amazing invention and has potential to develop more! We love it, My LO loves it! Got this from a giveaway, all opinions are my own.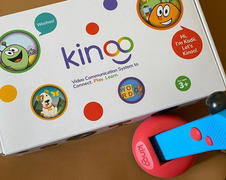 06/19/2022
Kristen I.

United States
Quality time with grandparents!
We LOVE our Kinoo! Our two sons- 3.5 and 5 years old- use it to play with their grandparents, who live 6 hours away. The games are fun and engaging, and the perfect skill level for their age. I highly recommend the Kinoo!!
05/19/2022
Carolina P.

United States
05/12/2022
Manda D.

United States